UNDERFLOOR FOIL INSULATION
3 IN 1 DESIGN

High-Performance Insulation, Radiant Barrier & Vapour Control Layer 

Can be used directly below screed

Suitable For All Underfloor Heating Types

Easy To Install with minimal waste

No Specialist Tools Required

SUITS ALL BUILD TYPES

Ideal for New Build & Retrofit - Roofs, Walls & Floors

SUPERFOIL CAN ACHIEVE ANY U-VALUE

Whether Used on its Own or in Combination With Other Insulation Types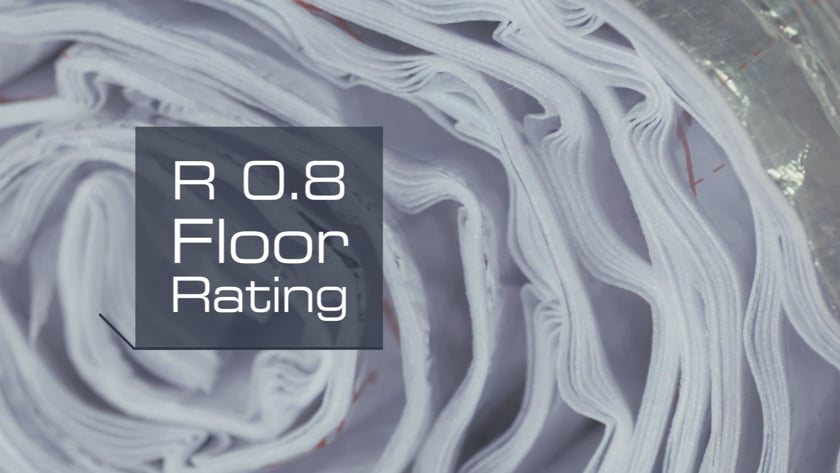 SFUF, The Perfect Choice For When Space Matters...
Our under floor insulation solutions have been specially designed with solid floors in mind. SFUF has a built-in protective layer, meaning you can put screed directly on top of the product without worrying about causing damage to the insulation. This makes it an excellent addition to that new underfloor heating system that you are installing!
SuperFOIL's underfloor insulation is extremely thin, measuring a grand total of 6mm in thickness! Despite its sleek appearance, SFUF still delivers the high thermal performance that SuperFOIL is known for. Making it the perfect solution for installations where floor depth is limited.
SFUF is slightly different from our other ranges. Due to the materials used, it is typically installed with the use of no air gaps and has minimal compression. However, that is where the differences end! Our underfloor range remains easy to install with minimal wastage, whilst still providing you a certified 3 in 1 product.
SFUF can be used all around the home! Not only in your flooring applications but also as wall insulation and roof applications! It can be used either as a lone product or in combination with other traditional types of insulation. This means that you will always achieve your target U-value!
SuperFOIL is easy to install and requires no specialist tools for fitting. Due to its clever design, you will have minimal wastage, unlike more traditional types of insulation. Our full range is made from 40% recycled materials and is fully recyclable at the end of its 50+ year lifespan.
Save Yourself Time and Money by choosing the right insulation for the job!
0.8 R VALUE

R Value of 0.8 When used in a roof wall or floor
| | SFUF |
| --- | --- |
| Core Performance | 0.8 R Value |
| | SFUF |
| --- | --- |
| Thickness | 6mm |
| Length | 8m |
| Width | 1.5m |
| Coverage | 12m2 |
| Weight | 6kg |
| | SFUF |
| --- | --- |
| Reaction To Fire (Euroclass) | Class E (Behind Plasterboard) |
| | SFUF |
| --- | --- |
| Water Vapour Resistance | 1200MNs/g |
| Resistance To Water Penetration | W1 |
| Tensile Properties (Length) | 705 / 635 N/50mm |
| Tensile Properties (Width) | 610 / 580 N/50mm |
| Resistance to Tearing (Length) | 428N |
| Resistance to Tearing (Width) | 453N |
| Elongation (Length) | 26 / 16% |
| Elongation (Width) | 28 / 17% |
| Flexibility at Low Temp. | -40°C |
| | SFUF |
| --- | --- |
| Reinforced Heavy Duty Double Laminated Foil | 2 |
| Aluminium Coated Reflective Foil PET Layers | 4 |
| Thermo Foam Separation Layers | 6 |
| Polyethylene protective layer | 1 |
| Total Layers | 13 |
SFUF is the solution for solid floor projects. Measuring at just 6mm it gives a core R value of 0.8.  Unlike our multifoil products, SFUF does not contain wadding layers within its build up, which allows for less compression within a solid floor application.
The top layer of SFUF is made from a polythene membrane, this is so that screed can be applied directly to the product without causing any damage to the insulation. It is also ideal for use with either electric or water based underfloor heating systems.
SFUF is easy to install, and is designed to be installed in a continuous layer. It is simple and quick to cut and fit into place. When using SFUF as a lone product with an underfloor heating system, we recommend to use clip rail fittings when laying your UFH pipes.  If you are using SFUF in combination with other insulation products (such as PIR), then pipe can be layed using typical pipe clips, placed through the SFUF and into the foam board.
It can be used on solid floors and over or under joists on suspended floors.
Although designed with flooring applications in mind, SFUF is a highly versatile product!
It can be used in walls, roofs or any project that has limited space but needs high-performance insulation. SFUF can help with thermal bridging issues, making a project airtight and reducing outside noise.
All SuperFOIL multifoil  Insulation products are independently tested to comply with relevant UK building regulations for use as part of construction and European regulations such as CE. These assessments are carried out by notified bodies and 3rd party certified laboratories.
Thermal performance is confirmed by testing to BS EN ISO 12667, ISO 8301 by BBA ( British Board of Agrément), who are a UKAS certified body and are an internationally accredited laboratory. Furthermore, we have a range of other accreditation's to comply with UK, EU & CE regulations to provide added confidence and accelerate your building application process from highly respected bodies such as BBA, LABC, DIBT & ZAG.
SuperFOIL can be used in many different situations to meet or exceed the requirements of Building Regulations for virtually any project, we can also provide a  U value calculations (free of charge) for elemental or SAP assessment methods.
Specific approved thermal test methods are required to comply with BR443 in Part 'L' of Building Regulations. On top of this performance, SuperFOIL also helps by reducing air moment (to reduce heat loss through convection currents) and radiant barrier properties (to reduce heat transfer through radiation /solar gain) helping to keep you home warmer in winter & cooler in summer.
Our FREE guide gives you all the information on saving time and money when insulating your home, and how to really make a difference to the comfort of your rooms.